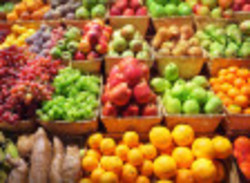 Image Credit: Huffington Post Images
A recent study in the Proceedings of the National Academies of Science reports that our dietary habits create as much as 25 percent of greenhouse gas emissions globally. Roughly 80 percent of those emissions come from livestock-both dairy and beef cattle. Food waste creates another 7 to 8 percent of greenhouse gas emissions globally. In fact, if food waste were its own country, it would be the third largest contributor to greenhouse gas emissions after the United States and China, producing more greenhouse gas than all the cars in the United States.
Why is this such a big deal?
First, when it comes to climate change and human-produced emissions, the most frequently discussed areas include transportation, energy use, and fossil fuels.
But, with food choices already contributing significantly to greenhouse gas emissions, and with population growth and demographic changes globally, the proportions and amounts of greenhouse gases emitted from our food system will only increase.
Curr千花网